The Best Futon From ANYSUN
The Best Futon From ANYSUN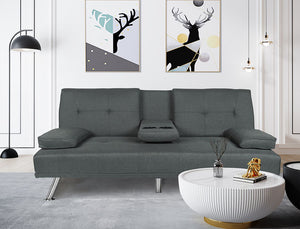 Futon Sofa Bed
Let's be honest, we all want to own a luxury villa with several spacious bedrooms, a movie theatre, designer living rooms, and whatnot. But the truth is, not everyone lives in a mansion and space is the main problem, especially in urban living. So, in modern homes, it has become vital to have furniture items that are multi-functional and also enhance the aesthetics of your home.  Most importantly, in this post-pandemic period, your home requires spaces and items that can serve multiple uses. Sofa beds have made a huge comeback in modern living in both big and small houses, as they are space-saving, multi-functional, and look great!
A sofa bed lies at the meeting point of a lazy-weekend comfort and last-minute guests' functionality. It can be a comforting couch when you want to unwind, and a cozy bed when you need to sleep. In small homes or studio apartments, it provides perfect seating and sleeping arrangements-both in one. In large houses, it can be used in kids' rooms, workspace, or your favorite recreational area of the house. The possibilities are endless.
If you are looking for a sofa bed for your home, ANYSUN's new Futon sofa bed can be the perfect choice for your home as a multi-functional, space-saving, budget-friendly, and aesthetically pleasing furniture item. 
Space-Saving
In houses with limited space, the Futon sofa bed is ideal. Futon sofa bed enables comfortable seating, lounging, and sleeping combinations without taking up the space of two heavy pieces of furniture, especially in small spaces like studio apartments and one-bedroom units. Buying a Futon sofa bed is also a less expensive option than buying both a couch and a bed.
Multi-functional
The futon sofa bed is a multi-functional furniture item. It can be converted into three different items, thanks to its flexible folding contraption. It is the coziest bed when you need a warm sanctuary to sleep. It's the perfect couch when you need to work or hang out with your guests. Moreover, for relaxing and lounging around on a lazy Sunday, a futon sofa bed can be the most comfortable space. It serves three different purposes, sleeping, sitting, and lounging, with its three different folding angles. Moreover, it has a cup holder in the middle when it's a sofa so you can place your coffee mug while working, or glasses while drinking with friends
Three-in-One Design
The space-saving futon sofa bed is multi-functional and has a three-in-one design to cater to all your needs. It features a folding contraption to lock the back at 105 degrees for reading/TV or 140 degrees for lounging and lay down the back as a 66" long by 37" wide twin size bed. The futon sofa bed's three different angles make it a perfect item for sleeping, sitting, and lounging.
Perfect Sleeping Space for Guests
 Do you often have overnight guests and you have to plan where will the guests sleep? Well, then the futon sofa bed is the perfect item for your guest room so that you can have seating space during the daytime and sleeping space for unplanned stayovers. It works perfectly as a twin-size bed for guests so you don't have to worry about sleeping space for the guests.
Trendy and Aesthetically Pleasing
The futon sofa bed can serve as a style statement and complete the look of your living room. Solid-hued upholstery, sleek lines, and gleaming chromed legs give out an understated yet contemporary appeal, while tufted details lend a touch of texture to the futon sofa bed. The tufted fabric upholstery and neutral solid coloring can perfectly blend with any style of home décor and spruce up your space.
Three Different Colors
The futon sofa bed comes in three different colors so you have options to choose from, according to your personal style and taste, and of course the color scheme of your house. It comes in light grey, dark grey, and dark purple colors. For a minimalistic, neutral color scheme or traditional home décor, neutral colors like light grey and dark grey would work best. If you want to make the futon sofa bed a statement piece or add some vibrancy to the room, dark purple is the color for you. The futon sofa bed in purple color is also a perfect choice for kids' rooms to create a colorful vibe. 
Durable Materials
Elevated on 4 chromed plated metal legs, the futon sofa bed is constructed of a manufactured wood frame, polyester fabric upholstery, foam fill, and metal zigzag springs for robust structure and unmatched durability. With solid construction, it can easily hold up to 600lbs, so you can freely use it whichever way you want.
Cost-Efficient 
The Futon sofa works for three different purposes, saves the space of two extra furniture items, and also saves the extra money spent on buying the other two furniture items. It's budget-friendly and cost-efficient with its multi-purpose functionality. Also, due to its durability, it is the best investment you can make for your home furniture.
So, if you are looking for an all-in-one furniture item for your home, the futon sofa bed can be your best choice. Its space-saving, multi-functional, cost-efficient, durable, and comfortable, comes in a variety of three different colors and serves perfectly as a twin bed, a sofa, and a couch for lunging around. Its design is similar to that of a high-end Adobu sofa bed but at a much less price.  ANYSUN helps you to complete your living space look in that understated yet contemporary design with this multifunctional convertible futon sofa bed. Crafted from a manufactured wood frame, polyester fabric covering, foam fill, and strong metal spring, this convertible futon bed features a flexible folding contraption to lock the back at 2 tilt angles for reading and lounging or lay flat as a comfy platform bed. So stop fretting anymore, the futon sofa bed can be the magical solution to all your needs!
CHECK OUT ANYSUN FUTON SOFA BED at Walmart.com